Vacation Rental Packages
Florida Vacation Villas has a variety of rental packages.
We have units that will accommodate up to a family of 8 for their annual vacation. Perhaps you are a couple needing a unit for a quiet and relaxing getaway. We can also accommodate the business traveler who may be attending one of the many conventions held in the Central Florida area. Whatever your needs may be we have units that are fully furnished and equipped. We do ask a 3 NIGHT MINIMUM.
Call for pricing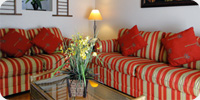 2/2 Sleeps 6
1 King, 2 Twins, Sleeper Sofa
Full Kitchen, Living Room, Dining Room & 2 Full Bathrooms
Call for pricing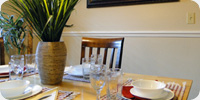 2/3 with Studio Sleeps 8
1 King, 1 Queen, 2 Sleeper Sofas
Full Kitchen, Living Room, Dining Room & 3 Full Bathrooms
Reservations can be made by calling (407) 397-2700. At that time we can confirm availability and give you our most current rates.