About Florida Vacation Villas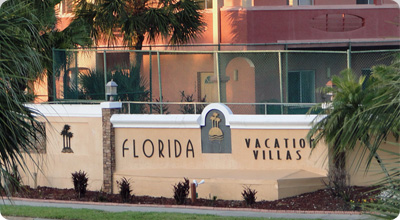 Florida Vacation Villas began operations in 1980 with 1, 2 and 3 bedroom villas. At present we have 32 fully equipped units. Complete with kitchen, living rooms, and large bathroom(s). All villas come completely equipped. All you need to bring is your toothbrush and suntan lotion.
We are located in the center of the area attractions, shopping centers, and restaurants, within walking distance, and yet the Villas are privately located off the main travel ways. Only 5 minutes away from Disney World, and 15 minutes from Universal Studios, we are the ideal "Home Away From Home" for your next stay in the Kissimmee/Orlando area.
About Our Departments
The front office staff is ready and waiting to assist you in making your vacation the best possible.
Do you have special requirements for your stay?
Do you need directions?
Do you need coupons or advice on where to go for dinner?
Do you need to check in for a flight or print boarding passes?
The front desk is here to assist you with anything you might need.
The front desk team is working behind the scenes even before your arrival to our resort. They are responsible for the receipt and booking of all reservations. In addition, they are responsible for ensuring that our owners receive their reservation confirmations in a timely manner. In addition, they can assist all owners with any space-banking needs that might arise.
The Business Office is staffed with two administrative assistants that have a combined 29 years of office experience. They have been with Florida Vacation Villas for 23 years. This office is where we process new transfers, update information in our system, as well as maintain existing owner accounts. We prepare and process all of the payments that come in to our resort, as well as mail out the annual newsletter and billing notices. We are here to make sure that our business is conducted in a professional manner and to provide efficient and detailed information to our owners and guests.
The business office is available Monday through Friday from 8:00 am to 5:00 pm to assist you with any information you need or refer you to the correct department.
If you have any questions for us, please call our office at 407-397-2700 extensions 4004 or 4005 or simply Contact Us.
It is our privilege to provide you excellent, prompt service during your stay with us.
As the Maintenance Department we maintain and repair all appliances, furnishings and anything else that may need service both inside and outside our villas. We routinely conduct inspection of each villa. We have many years of experience in the home contracting and maintenance field.
The Housekeeping Department has a supervisor that has 10 years of resort cleaning experience. Housekeeping is done the morning of your arrival. We provide this one cleaning but should you need additional housekeeping we do have this service available. Fresh linens and towels were prepared for you prior to your arrival.
It is our goal to make sure everything is in its proper place and in working order before, during and after your visit. However, there are times when special requests may come up, please know that we are available to handle these while you are visiting with us.
Florida Vacation Villas Management and your Condominium Association Boards of Directors are here to offer you over 80 years of combined timeshare experience. We have managers and staff that are licensed by the State of Florida as Community Association Managers, Real Estate Agents and Brokers. We are supported by licensed and accredited Real Estate Attorneys, CPAs and Collection Companies. We have been affiliated with RCI since 1981 and have been a recipient of their Hospitality Award. We are knowledgeable in every aspect of the timeshare industry. We have made sure that our exceptional staff is dedicated to providing you the best for your vacation experience.
It is our goal to offer you the quality of service you would give to others and expect to receive yourself. We take pride in knowing that we can provide you a home away from home.